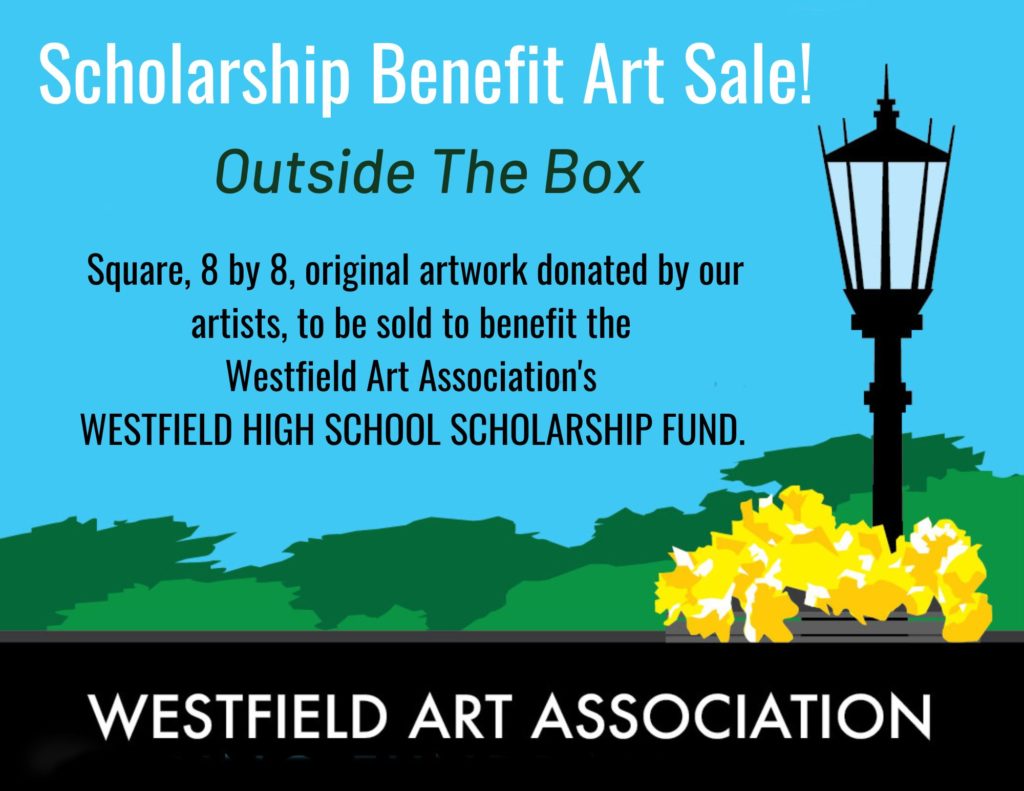 Dear members, 

Each year the WAA awards a scholarship to a High School Senior chosen by the WHS Art department. Create and donate a small, original artwork to be sold for the benefit of The Westfield Art Association's, Westfield High School Scholarship Fund. 
This year the name of our scholarship art sale is Outside The Box. If you choose to participate, we ask that you create an original work of art – 2D, on an 8 by 8 surface area, to be made available to the public to purchase at a flat rate of $60.00.
The artist will not be responsible for the shipping cost. If your piece is sold, we will contact you and arrange for art transfer.
Any medium is acceptable, including photography. The subject matter is open; however, nudity is not permitted. All art will be sold unframed. Images will be displayed on westfieldartassociation.org, and our social media.
Submission Guidelines:
Email your image to: westfieldartassociation@gmail.com
Subject Line: Scholarship Fundraiser – Your Name

Be sure to include the following in the email:
Your Name
Phone number
Address
Title of art
Medium
Photo of your art: Please submit photo that best showcases your original art as that is the photo we have to use on our website for the sale.
File type: .jpeg

There is no limit to how many pieces you can submit.
Submission is FREE for Westfield Art Association Members in good standing.

DEADLINE FOR SUBMITTING WORK: November 11th, 2022

Art show will run November 18th to December 21st, 2022, 

Please contact us at westfieldartassociation@gmail.com with any questions.

Thank you,
WAA